Endurance Cup
From ASN Wiki
Jump to navigation
Jump to search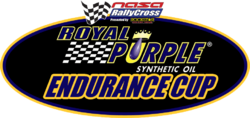 The Royal Purple Endurance Cup is a new for 2013C mini-championship in the NASA RallyCross Challenge.
In the 2012A NASA RallyCross Challenge Season, two of the six rounds were at rally tracks. These two circuits, Island Rally and Riverside, were considerably longer than normal Rallycross circuits that the drivers were used to. Also, these rounds featured no Joker. Instead of strategy, the drivers had to have the endurance of focusing on three, four, or eight clean laps without incident (LCQ, Heat races and Final, respectively) in order to win. After 2012A, the endurance rounds were phased out in favor of shorter circuits that would spice up the racing.
After five seasons without them, the NASA officials announced prior to the 2013C NASA RallyCross Challenge Season that the newly renamed Endurance rounds would return, this time forming a mini-championship. It proved to be a good decision, as Dylan Livengood narrowly held off Josh Mertz for the first round win of the mini-championship. At Riverside, Cody Erdmann went on to win the race, with team mate and team owner Josh Mertz in second, for their second consecutive 1-2 finish. Dylan Livengood finished 7th, his worst finish of the season. When points were tallied, Mertz won the 2013C Endurance Cup by one point over Erdmann.
The RPEC will return for 2014A. Returning to the calendar will be Island Rally and Riverside, while the first ever Spanish round, Guadarrama, will make a 3 round RPEC for 2014A.
Champions
[
edit
]